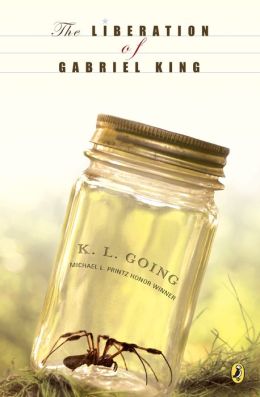 Author: K.L. Going
Format: Paperback
Pages: 151
Publisher: Penguin Group (USA) Incorporated
Publication Date: March 1, 2007
ISBN-13: 9780142407660
About the Book
Gabriel King was a born chicken. He's afraid of spiders, corpses, loose cows, and just about everything related to the fifth grade. Gabe's best friend, Frita Wilson, thinks Gabe needs some liberating from his fears. Frita knows something about being brave— she's the only black kid in school in a town with an active Ku Klux Klan. Together Gabe and Frita are going to spend the summer of 1976 facing down the fears on Gabe's list. But it turns out that Frita has her own list, and while she's helping Gabe confront his fears, she's avoiding the thing that scares her the most.
My Review
Cover: I really enjoyed this cover. It is very simplistic and easy to look at, though I have to admit I'm not a fan of spiders, just like the main character, Gabriel King. But I did like the colors of the cover and wanted to read it to see what it was about.
Characters: This is a cute read about friends helping each other out with their fears of the unknown, spiders, swamps, bullies, and the fifth grade. I really enjoyed reading about the two main characters, Gabriel King and his best friend, Frita Wilson. These two characters were very much complete opposites I thought, but at the same time they didn't care. They just wanted to spend the summer becoming braver for the fifth grade. I really like reading about all of their adventures through town, through the swamp, and the dirt road. Frita helped Gabriel a lot throughout this book with his fears, while he helped her with her fears as well.