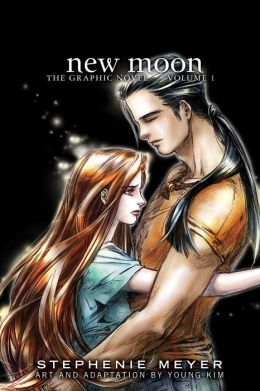 Author: Stephenie Meyer
Format: Hardcover
Pages: 176
Publisher: Orbit
Publication date: April 23, 2013
ISBN-13: 9780316217487
About the book
In the first installment of New Moon, Bella and Edward find themselves facing new obstacles, including a devastating separation, the mysterious appearance of dangerous wolves roaming the forest in Forks, a terrifying threat of revenge from a female vampire and a deliciously sinister encounter with Italy's reigning royal family of vampires: the Volturi.
My Review
Things that I liked: I really enjoyed seeing the visual artwork that was made with/for the characters and the storyline for this series. I really enjoyed seeing the way that Young Kim drew and adapted the graphics for this particular first half of New Moon. I really enjoyed it. The fact that there were colors throughout the graphic was pretty neat to see. I wish there was more of it. I liked that this was pretty accurate and very similar to the actual novel.
Things that I didn't like: I know that there is some color throughout the graphic novel, but I would have liked to see a little more color throughout the piece.
Overall: I really enjoyed this piece. I would recommend this to anyone who like graphic novels and/or anyone who likes the Twilight Saga and wants to read a little twist to the novels. I would rate this 4 out of 5 stars.
Until next time, Happy Reading!