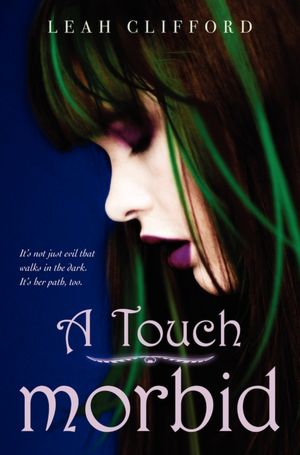 Author: Leah Clifford
Format: Hardcover
Pages: 298
Publisher: HarperCollins Publishers
Publication date: February 28, 212
ISBN-13: 9780062005021
About the Book
Eden saved Az.
She fought and sacrificed and won him back from the most evil of evils. Now is the time for happily-ever-afters, right?
Not so fast.
A boy—even an angel—is hardly the solution to Eden's problems. She's still caught between life and death, still cursed to spread poison with her touch. She's lost one best friend and another is quickly unraveling. And now something is happening to the mortals. Something very, very bad.
What happens in the dark spaces? The ones between life and death, love and hate, betrayal and redemption, sanity and delusion.
Or good and evil.
Eden is about to find out.
The riveting sequel to A Touch Mortal
My Review
I really enjoyed reading this sequel. I liked how it picked up where A Touch Mortal left off, or so it seems.
Some things that I liked about this book were that Eden changed her hair color according to what she looks like on the cover of the book. I liked that Gabe isn't really present throughout the entire book, it gives the vibe that he is gone, that he is truly fallen to side of evil even though he tries to resist the urges. I enjoyed reading that Eden's new problem since she stopped killing the siders. I really thought it was interesting that Gabriel and Eden were tied together somehow. Because he was the one that killed her. I thought it was interesting that when he fell, the siders she was killing were going to the Underworld and not to Heaven. But that almost cost her, her life. She stopped killing them, and in the process almost killed herself.
I look forward to seeing what will happen in book 3 with Eden, Gabriel, and Az. It seemed like he was one of the bound again, so I want to know what is going to happen with him and Eden now. I recommend this book to anyone and everyone.
Until next time, Happy Reading!